The cooking place always has a major place in homes and people want their kitchens to be beautiful and aesthetic. Inside every effective, aesthetic, and beautiful kitchen there are certain things, that are arranged in a way to give it a proper shape. Kitchen layouts, titling, color schemes, worktops, cabinets, appliances, and various other elements make a proper cooking place, and choosing the best kitchen design concept is much necessary these days.
2020 is the year where technology has revolutionized the entire world, and the concept of "living kitchens" has emerged where technology performs a major role to provide effective functions and aestheticism. People still try to have a comfortable and efficient kitchen space with the use of technology. Sustainability and storage are the major ideas that people keep in mind while building the kitchen designs.
Effective use of the space available to fit in the maximum number of items inside kitchen space is an art. Coloring also is making a difference. Beautiful furniture that suits the color scheme also increases the beauty of kitchens, and to plan the best kitchen design concepts for 2020, you can follow these emerging trends of kitchen designs.
20 Best Kitchen Design Concepts:
1. The Painted Kitchen
At present, it is being considered as one of the best kitchen design concepts. It combines the grey color schemes with taupe, light greys, slate grey through to the charcoal. It makes the best combination and gives a modern painted touch to the traditional kitchen looks and finishes. It makes the kitchen design versatile and beautiful.
Authentic raw materials such as concrete and marble when combined with the painted cabinets and furniture, give a whole new look to the kitchen. Everything just looks brighter, classic, and durable yet contemporary in the finish.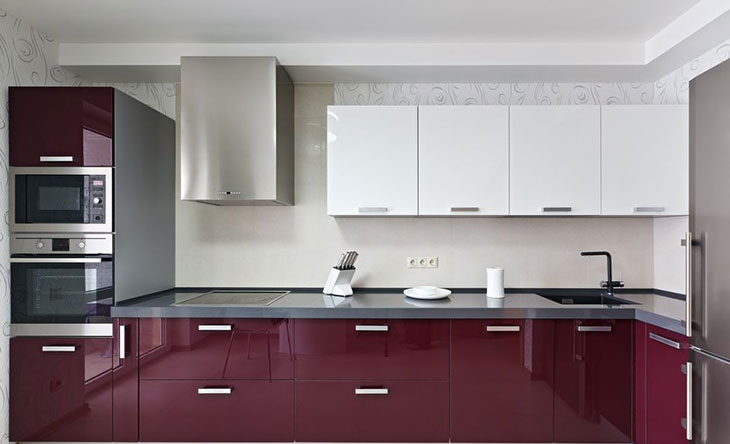 2. Colorful Kitchen
With the emerging trends, a taste for the color range from vivid green to the deep purples is increasing. The vibrant colors are used with natural woodgrains and stones and it proves to be a popular choice for people. Various shades of green color are used with vivid bright colors to make an effective and beautiful combination.
This trend has taken over the minds of people and "green kitchens" have increased by a total of 50% in a single year than the previous. It gives a classy touch to furniture, cabinets, and worktop. However, other colors can also prove to the best choice. Pairing the deep, plummy tones with the charcoal cabernet-inspired cabinet paint can also make your kitchen glamour. It is a bold choice for people in 2020.
3. Monochromatic and Black Kitchens
Elegant and sleek designs with the black monochromatic colors can your kitchens much more beautiful. Living in a modern apartment with a black monochromatic kitchen is another sort of pleasure. However, you can make your traditional kitchen much more elegant with these designs as well.
Interiors that range in black colors, charcoal, and monochromatic shades are becoming much more popular than ever. To make the kitchen designs classy and simple while remaining in a simple color range is the trend that people are attracted to. You can also use this kitchen concept to make your cooking place classic and elegant.
4. Space Saver Kitchen Design
If you have a big family, then you need to have a bigger kitchen. It can be a problem for you to manage everything if you have a smaller kitchen space. So, if you want to use every nook and corner of your kitchen space, you can choose this concept design. This concept design uses every inch of the kitchen floor and cabinets and helps to arrange everything neatly and beautifully.
This type of design might take extra care and time to set up. Everything needs to be carefully arranged and once the setup is ready you can use the paint designs to follow up. It will give an extra touch to your space. It can prove to be a space-saving hero for your big family if you manage to set it up in the best ways.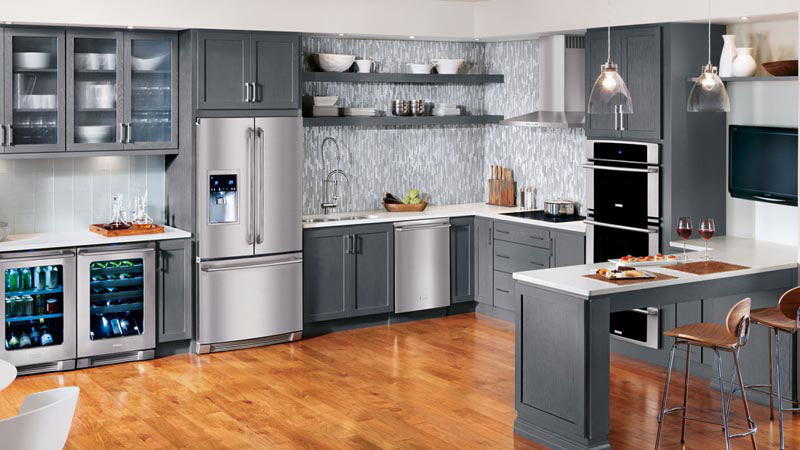 5. Adding a Prep Table
If you are facing the problem of space inside your kitchen, then you can add up a table. The table can work as a multipurpose tool. You can use the table for dining and at the same time for the preparation of food items. This will help you manage the space for different purposes. After setting up the table, you can then set the remaining kitchen space according to the position of the table.
You can also select the colors of cabinets according to the color of the table and vice versa. So, doing this will take the things in matching colors, which can be trendy and classy. Secondly, you can also use the colors in contrast. It will also give a different touch to your kitchen.
6. Natural in Stones
This is another way to have a completely different kitchen setup than the regular one. You can use natural stones such as granite and marble for the countertops and various other places. This will also save you from the expenses of coloring and furnishing. Natural stones automatically get in matchings with the cabinets and their colors. Secondly, it is a simple and beautiful design which can give a better experience to you.
7. Think Vertically
It is considered as one of the best ways to develop the kitchen space. As technology is growing faster with the rise of population, there is less space available for various things. So, it is the best idea to set up your kitchen items in a vertical position. Set the cabinets, floor tops, and everything in a vertical position. It will maximize the use of space available and also provide the maximum function. You can fit in the items according to your arrangements.
The coloring scheme can also be according to your choice. However, for kitchens like these, white color schemes are generally recommended as the best ones.
8. Family-first layouts and Flextensions
Living in a multi-generation time is the most difficult time. Everyone has different needs and different habits. So, to overcome this problem, you can setup a family-first layout for your new kitchen design. 2020 presents the customized furniture designs which can be used for people of every age. You can design the furniture according to your needs and set it up in the kitchen.
Not only the furniture, but you can also set the cabinets of different lengths and height for kids and elder people. It gives them a personal space to sit and enjoy their food. You can set up different arrangements for different people, and doing so you can maintain a good and healthy environment inside your kitchen, where elders can sit on one side and children on others while enjoying their meals. Color schemes can also be different according to the choices of individuals.
9. Built-in Appliances
The notion of practicality and convenience is a bigger concern by the people now a day before setting the kitchens. For this purpose, built-in applications can prove to be the best choices. These built-in appliances can fit inside their spaces perfectly and prevent the need for extra space availability.
This design is often considered old-fashion, however, it is facing a complete reboot today. Because people are short of space, so they have to manage it by the built-in appliances.
10. The Concealed Kitchen
Concealed kitchens are the most recent trends. Most of the people want to have open space and fewer items around to have a classy touch. So, this concealed kitchen concept is the best one for this purpose. The kitchen space is covered from outside with the coverings and it then hides the kitchen items from living space, making it much more beautiful.
11. Smart Tech
Smart tech kitchen concept works on technology. Vacuum drawers, steam ovens, fridges, and LEDs are used for various purposes such as to store food, warm it, and light up the kitchens. Technology is taking over the world and smart tech kitchens are making it much better.
12. Kitchen Island Dinner Table
There are hundreds and thousands of concepts that can revolutionize your kitchen design. However, adding a kitchen island dining table has a separate charm of its own. It separated space for socializing, dining, and working. It resembles the traditional styles of dining tables, however, it is quite different and unique from them.
13. Decorative Worktops
The decorative worktop concept is also a good and fresh idea, where you can use your worktop space to decorate it with certain decorative items. It will extra shine to your kitchen and will make it much more eye-catchy. Simple shelves and worktops also look beautiful, but this idea can also make your kitchen aesthetic and beautiful
14. Consider a Mirrored Backsplash
If there is no natural light in your kitchen, you can use a setup where mirrors are present. It will help catch the natural light inside the kitchen atmosphere, open up space, and bounce the light inside the kitchen. It is a beautiful concept and can enhance the beauty of your kitchen.
15. Use of Pattern in your Kitchen
The floor of the kitchen is the most important area which overlooked all the time. So, using a high-impact design element can make your kitchen glow. It will give an impression of the choices and expenses that you can spend on yourself. Mixing the pattern floors with chevron or herringbone wood can be the best option and will give it a Bohemian touch.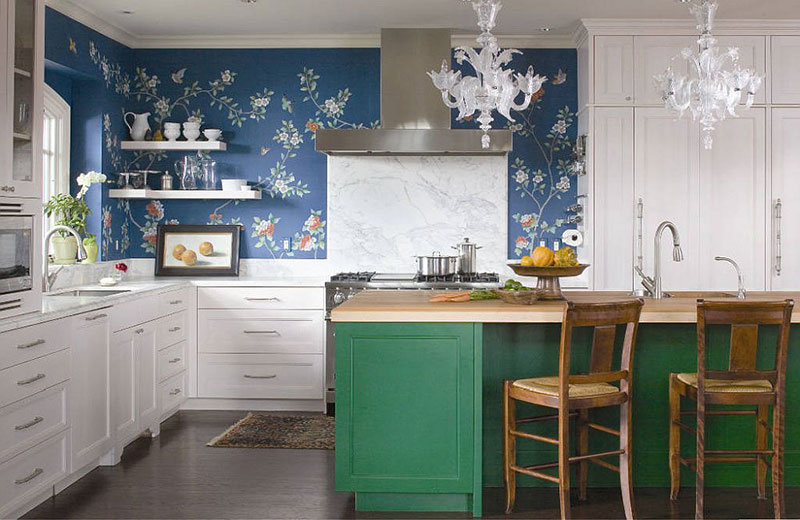 16. Mix and Match Metals
Mixing the metals with the wooden elements in your kitchen is also a good concept to make it much better than before. Adding a soft gold faucet with black or nickel hardware along with the wooden furniture will increase the beauty. The matchy-matchy trend is not working these days, so you can opt for this choice and have the best experience.
17. Adding Steel Hoods
Most of the homeowners these days are going for the steel hood designs. This can prove to be a major focal point inside the kitchen space especially if it goes with the layout of the kitchen. Custom hoods are a bit expansive, however, they can add up to the aesthetic sense of your food place. Be creative with your space and get rid of the old matching stainless hoods.
18. Luxury Cherry Wood Parallel Kitchen Design
Chic cherry wood cabinetry and marble countertop with parallel kitchen design can add up to the luxury of your cooking space. Installing the perfect pair of hanging pendant lights can also increase beauty further. If you are looking for a luxurious design, then you can surely use this design.
19. Parallel Kitchens with Handle Less Cabinets
A parallel kitchen with handleless cabinets can prove to be the best option for saving space inside the kitchen. With some glass fitting and integrated sink, this will prove to be the most beautiful design for you if you get it right during the setup.
20. Open Storage for Small Spaces
Concealed storage can be big and get more space, the smaller spaces can be used as open storage of various items. The spaces along the walls are used to place the table holders and make shelves for bottles. It will help in maximizing the use of space available even in the open storage. Various products can be stored in these places, and it can give a different look to your interior design. 
Conclusion
As the need of time, the interior decorators and designers are inventing multiple designs day by day. These designs comply with the technology and help to maintain the best and aesthetic kitchen spaces which can provide maximum functioning. All of the above designs are the top trending designs of 2020 and you can use them to make your cooking space beautiful.
All these ideas contain the aesthetic, storage, functionality, and sustainability of your kitchen space. So, use these ideas and have the best experience while you are planning to design your kitchen with a modern or antique look.